Millis Transfer was founded as a beer distributor more than eight decades ago.
Based in Black River Falls, Wisconsin, the company's maroon tractors and white dry van trailers are common sights throughout the Midwest, Southeast, and Northeast United States.
This trucking company is known for safe and professional service. They operate CDL schools in the following locations: 
Hamilton, Ohio
Cartersville, Georgia
Richfield, Wisconsin
Burleson, Texas
Eden, North Carolina
Carlisle, Pennsylvania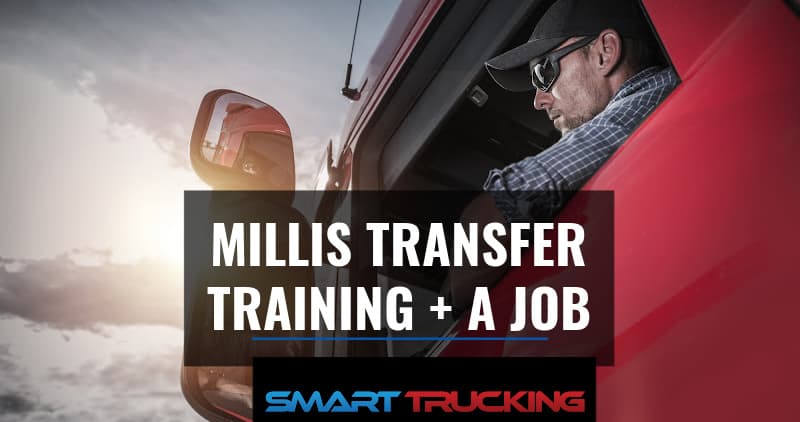 PROGRAM HIGHLIGHTS – Millis CDL Training
Course highlights include:
Certified 12-week program
Minimum up-front cost
No credit checks and available financing
Lodging, breakfast, and lunch are included during weeks 1 through 4
Classes are held Monday through Friday
Three-day orientation
Approximately three weeks of classroom and on-site instruction
Maximum of six students per class means personalized instruction
Approximately nine weeks of over-the-road training with an instructor (one-on-one)
A total of 166 hours is required to complete the course
Students are paid .44 cents for each mile they drive when on the road with their trainer
PROGRAM OVERVIEW
Weeks 1 & 2 – Classroom instruction includes:
Overview of the trucking industry
Hours of service (HOS) regulations
Map use and trip planning
Vehicle inspection and control systems
Coupling and uncoupling tractor-trailer
E-log use
Onsite range driving (about 4 days or 40 hours)
Week 3 – Road instruction:
In-truck training and driving with instructor
Learning and practicing safe driving habits and techniques
Straight backing and loading dock practice
Week 4 – Company Orientation:
Millis Transfer new driver orientation program
Weeks 5 through 12 – Over-the-road training with instructor:
Trainees experience life on the road
Student drivers interact with shippers, receivers, and company dispatchers
Trainees drive and operate the truck under their instructor's guidance
Take CDL license test using Millis Trucking equipment
End of week 12 – Graduation:
After successfully and safely driving at least 15,000 miles with and instructor, student will be assigned his/her own truck
SCHOOL PAYMENT TERMS
MTI's school costs and student repayment terms are as follows:
Deposit – $100
Down Payment – $400      
School Loan – $1,840.00
TOTAL COST – $2,340         
Millis keeps the $100 deposit and $400 down payment. Then, after training, students will begin repaying the school loan. 
Payment terms are $30 per week for 52 weeks.
For students who make the guaranteed salary of $50,000, their gross pay for the year would be $48,450 after paying off their school debt.
For a more detailed information and a CDL training school cost-comparison calculator click here
Learn How to Become a Truck Driver in the US: 10 Steps to Getting Your CDL
COMPANY REQUIREMENTS FOR TRAINEES
Students must:
Be 21 years old or older
Pass DOT physical or have a current medical card 
Read, write, and speak English fluently enough to communicate in public
Have no major accidents or moving violations on current license in the last 5 years
Have at least a high school education
STUDENT PAY DURING TRAINING
During paid CDL training student compensation starts at .44 cents per mile (CPM) and tops out at .49 CPM.
Graduating students who meet Millis' safety and performance criteria will get quarterly raises of 1 CPM.
Millis also offers a $50,000 annual pay guarantee for drivers who log more than 115,000 miles in 12 months.
Students who don't take advantage of the company's insurance plans may get an additional 1 cent more per mile on their base pay.
MILITARY FRIENDLY
Millis Training Institute gladly accepts honorably discharged veterans making the transition to civilian life and a truck driving career.
For those who qualify, driver training may cost as little as $1,000.
Be sure to tell your recruiter if you're a veteran during the onboarding process.
MILLIS TRANSFER LOCATIONS
Black River Falls and Richfield, Wisconsin
Hamilton, Ohio
Weedsport, New York
Ridgeway, Virginia
Eden, North Carolina
Cartersville and Albany, Georgia
Burleson, Texas
East St. Louis, Illinois
HIRING AND OPERATING AREAS
Most of Millis Transfer's drivers operate east of the I-35 corridor.
The company hires drivers from most Midwest, Southeast, Mid-Atlantic, and Northeast states, though some rural areas in northern New England may be excluded.
Millis has over-the-road and dedicated divisions in key markets across the country, and regional fleets in the Midwest, Southeast & Dallas/Fort Worth areas.
REQUIREMENTS FOR EXPERIENCED DRIVERS
Experienced drivers must:
Be at least 23 years old
Have at least 6 months of OTR experience
Have a good driving record for the past five years
Have no major, preventable accidents in the past year
Meet DOT requirements
Pass drug screen
RIDER AND PET PROGRAM
Although a 'Rider Program' is included in the Benefits section on Millis' website, there aren't any specifics listed.
This is something you'll want to address during the onboarding process.
But remember, rider policies are usually reserved for experienced drivers.
You can view Millis' Pet Policy here.
EQUIPMENT
Most Millis tractors are Kenworth T680s with 76" sleepers for over-the-road drivers and 52" mid-roof sleepers for regional drivers.
According to Mills' website, all come with:
Sirius Satellite Radio
24" flat screen TVs and a company paid DirecTV subscription
Automatic transmissions with ABS and traction control
Governors set at 70 mph (for drivers who meet safety criteria)
Summit driver comfort seat
Aluminum wheels
Refrigerators
Sleeper vents with screens
No-touch 5th wheel releases
Upper and lower bunks
Power locks and windows
HOME TIME POLICY
As is common in the industry, Millis Transfer's Home Time Policy is long on rhetoric and short on specifics.
"Hometime You Can Count On" sounds great, but what it means is anyone's guess.
Don't take their word for it, get specifics in writing before attending an MTI school.
BENEFITS
Millis Transfer drivers enjoy coverage through United Health Care and MetLife.
Featuring multiple options, extensive coverage and minimal co-pays, qualifying drivers have access to:
Group eye, dental and health insurance
Prescription plans
Life insurance
401(k) with company matching up to 30%
Rider policy
Short term disability
Accident, cancer, and critical illness coverage
Additional 1c per mile for all those not utilizing company health insurance
VACATION
Trucker's lives aren't easy.
To make things easier on drivers and their families, Millis drivers who've been with the company for at least a year get three weeks of paid vacation annually.
At least one of the three weeks must be taken away from work.
However, diehard road warriors can cash in up to one week of vacation per quarter if they'd rather not take extra time off.
WHAT WE LIKE ABOUT MILLIS TRANSFER
Long track record of financial stability
Respected and certified CDL schools with modern facilities
Well maintained late model trucks with lots of driver amenities
Multiple terminals across the country
Reasonable training tuition and payment programs
Good company benefits package
Good mileage pay
Lots of opportunities for over-the-road, regional and dedicated drivers
WHAT WE DON'T LIKE
Some contradictory information on their various websites
Some information on the Millis Transfer website is more than two years old
Numerous drivers report poor service from night and weekend dispatchers
Numerous drivers claim there are too many trucks and not enough freight
Some trainers have as little as one year of driving experience (although this is better than many of the other CDL training schools)
Hazy home time policy
Some shops closed on weekends which means drivers could sit waiting for minor repairs
The $50,000 annual pay guaranteed can be hard to hit due to lack of miles
In-cab cameras (Big Brother is always watching)
PAY COMPARISON CALCULATOR
New and experienced drivers interested in comparing Millis Transfer's compensation package to other carrier's pay can use this handy pay comparison calculator.
FREQUENTLY ASKED QUESTIONS – FAQs
Is Millis Transfer a good company to work for?
According to online reviews Millis may be one of the best trucking companies for recent trucking school graduates.
What does Millis Transfer haul?
They haul general dry freight like paper, beer, bottles, and other palletized shipments.
Do Millis drivers have to lump their own freight?
They don't load or unload their trailers, but on some loads, they may need to install straps or load locks for securement purposes. 
Millis Transfer vs Roehl?
Millis and Roehl both have good reputations. They have nice trucks, decent benefits, and competitive pay packages. 
Does Millis Transfer have a CDL training school?
Yes, Millis Training Institute operates CDL schools in Ohio, Georgia, Wisconsin, Texas, North Carolina, and Pennsylvania.
How much is tuition?
The total cost of getting a CDL-A license from MTI is $2,340. Students are required to make a $100 deposit as well as a $400 down payment, and after graduation they'll begin paying off the school loan. Repayment terms are $30 per week for 52 weeks.
How long is Millis Transfer's trucking school?
MTI's training program is 12 weeks long. The first three weeks are classroom and onsite instruction, after which trainees are on the road with a driver-trainer for nine more weeks.
Does Millis Transfer offer paid training?
Yes, MTI offers paid CDL training. During their over-the-road time with their trainer students are currently paid fair wages compared to the other paid CDL training programs.
Will I be forced to team after graduation?
No, nearly all Millis drivers are solo.
Am I guaranteed a job after graduation?
No. If you meet all their requirements, you will probably be offered a job, but there's no guarantee.
Is Millis Transfer CDL Training a good deal?
MTI school costs are reasonable, and at just $30 per week for a year the repayment terms couldn't be easier. In short, of all the companies that pay for CDL training, it's one of the best deals out there.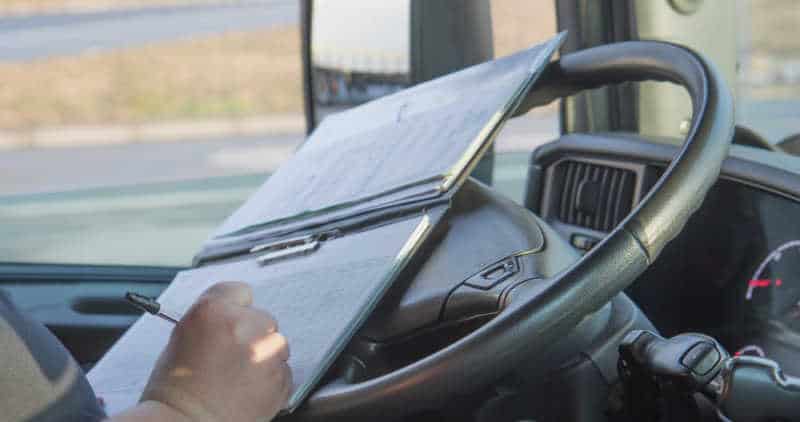 Here's a A Quick Guide to Choosing a Truck Driving School, with some tips to get what you're looking for when training to become a truck driver.