You may know somebody who is a truck driver. You want to buy them a gift. But you have absolutely no idea what gifts for truckers are out there that would be useful for a professional truck driver.
You're stumped.
Whether a Christmas gift,a birthday or any special occasion, we can help.
If you're struggling to think of something, we've got your back.
We've compiled a list of some great gifts for truckers, that truckers want!
All the gifts we've reviewed in this article would make the life of a truck driver easier on the road.
So here we go.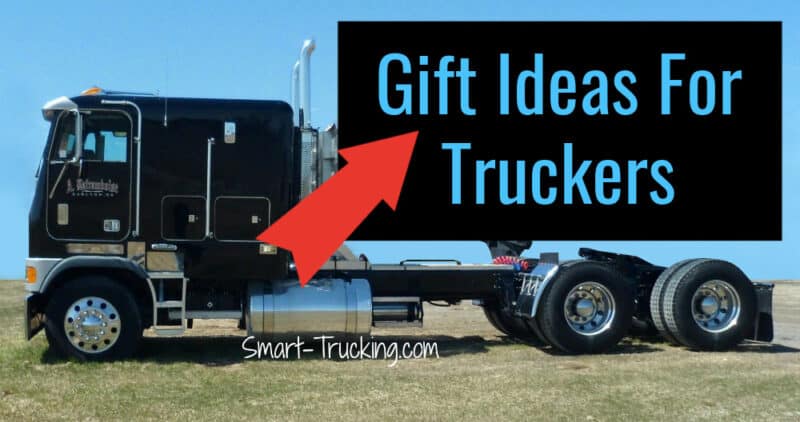 Every trucker needs a 12V cooler to keep their food and drinks cold and fresh as long as possible.
Besides that, most truckers who cook their own food to stay healthy or save money need a 12V cooler to store their food.
If you're looking for the best 12-volt cooler for truckers, we recommend the Igloo 40 Quart Iceless Thermoelectric 12 Volt Cooler.
We like this 12V portable cooler because it can keep your food and drinks cold without ice if you plug it into the truck's cigarette lighter.
It also comes with an 8 feet long power cord so you could have more space to position it in the truck's cabin. Not to mention, the cooler is big enough (40 quarts) to make most truckers satisfied.
Another good option is the Koolatron Travel 12V Cooler.
What's impressive about it is that it doesn't just keep your food and drinks cooler than the ambient temperature, but it can also heat your food up to 140 degrees Fahrenheit.
Since truck drivers are always on the move, they spend most of their time seated.
The problem is, sitting for too long could cause long-term side effects such as back pain, neck pain, hemorrhoids, tailbone pain, and compromised posture. However, an orthopedic seat cushion gift could minimize those risk factors in the long run.
In fact, if you know a truck driver who complains of back pain, hip pain, neck pain, tailbone injury, hemorrhoids, numbness, or spinal issues, this orthopedic memory foam cushion with gel layers could be the perfect gift to relieve pressure.
Besides that, it helps to improve blood circulation when you're sitting for too long.
A GPS device is a must-have for any trucker.
However, when you're buying a navigation device as a gift, it's important that you choose a GPS device designed for truck drivers; this will help the trucker to avoid weight restrictions, low bridges, and roads that don't allow big trucks.
If you're searching for the best GPS for truckers, we recommend the Garmin dezl 580 LMT-S.
It's one of the most popular GPS devices for truckers because it lets you plan a suitable route based on the size and weight of your truck. In addition to that, it notifies you of any nearby restaurants, gyms, truck stops, shower amenities, and rest areas.
Some of the other notable features available in the Garmin dezl 580 LMT-S GPS device include built-in Wi-Fi receptor, live traffic updates, voice control, live weather updates, external memory slot, compatible with eLog compliant ELD and Bluetooth compatibility. I
f you're a truck dispatcher, you can also send delivery addresses through the GPS device.
Even though CB radios are not as popular as they used to be back in the days, they're still important for most truck drivers.
Why? Because most truckers receive live updates and emergency alerts through the CB radio. For instance, if there is an accident or a speed trap up ahead, most truck drivers will talk about it on the CB radio.
Not to mention, sometimes truckers drive through places with poor cell phone reception, so they have to rely on the CB radio.
If you're hunting for the best CB radio, consider the Cobra 29LX Professional CB Radio.
It's a great CB radio that ticks all the boxes from having all the 40 CB radio channels, NOAA weather channels, adjustable dynamic boost, RF gain settings, switchable noise blanker to instant channel 9 access.
It's also designed with an in-built clock and alarm.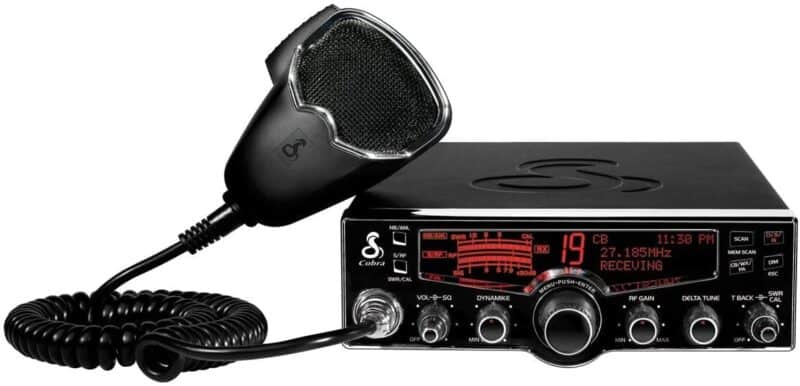 Here is an idea: how about you surprise a trucker with a slow cooker gift so that he/she can have the food ready after a long trip?
Another reason to get a slow cooker for a truck driver is because most restaurants and truck stops have too much junk food which isn't healthy in the long run.
Anyway, if you're looking for the best slow cooker for truck drivers, we recommend the TrianglePatt Portable 24V Food Oven and Warmer.
What makes it convenient is that you can plug it into the cigarette lighter and cook raw food such as beef, chicken, and pork in about 2 to 3 hours. The internal temperature is between 140 to 230 degrees Fahrenheit, but it doesn't burn the food even if you plug it overnight. It's also easy to clean and compatible with heat-resistant containers made out of glass, metal, plastic, aluminum, ceramic, and Tupperware.
Another good option that helps truck drivers to cook on the road is RoadPro 350 Quart 12V Slow Cooker. What we like about it is that it comes with a glass lid and a stretch cord to secure the lid and prevent the food from spilling when you're driving.
But if you just want an electric lunch box that a truck driver could use to warm or reheat pre-cooked food or leftovers on the go, consider the Gideon 12-volt Electric Lunch Box or Travelismo Electric lunch box.
Note: A trucker could also use a slow cooker to warm up or reheat the food.
Sometimes big rigs break down on the side of the road, and it could be a hazard, especially if it happens at night.
This is because there is a potential risk of an oncoming vehicle hitting the truck or driver due to poor visibility. In such a scenario, a truck driver needs to use an amber light to alert oncoming drivers to slow down.
What if there was an emergency light device designed for professional truck drivers? It turns out such a device exists; it's known as the Guardian Angel Lite device. For what it's worth, it's a 3 in 1 device that features a flashlight, amber light, and a work light.
Beyond that, what makes the Guardian Angel Lite device a cool gift is that truckers can stick it on their shirts, jackets, or hat when walking at night; this helps to improve visibility. Better yet, it comes with a magnetic mount so that you can easily attach it to your truck.
What's more, if your loved one needs immediate assistance, he/she can promptly turn on the SOS flash mode. We also like that the Guardian Angel Lite device is waterproof and you can use it when it's raining or snowing.
Read our more detailed review on this very bright and powerful multipurpose flashlight.
These are super handy devices to have!
Most truck drivers have to deal with hand fatigue and sweaty palms after driving non-stop for hours. Even if the steering wheel is covered with grippy material, you still have to deal with road vibrations and extreme weather conditions.
That's where a pair of leather gloves come in; they're designed to absorb road vibrations, reduce hand fatigue, protect against extreme weather conditions, and improve the steering wheel grip. Besides that, we have to admit that a trucker wearing a pair of leather gloves looks cool and attractive.
If you're looking for the best gloves for a trucker, we recommend the Wells Lamont Men's Cowhide Leather Work Gloves. They're made out of 100 percent grain cowhide with a reinforced leather palm patch to improve durability. Another cool thing about these gloves is that they're designed to make it easier to control the steering wheel with precision.
How about an audiobook to keep a trucker entertained during the long-haul trips? The Trucker Stories from The Glory Days is a 4.5-hour audiobook of some of the funniest and entertaining trucker stories from the golden days of trucking.
The narrator of the book is Dave, who has been in the trucking industry, professionally, for over 45 years.
With a track record of over 4 million accident-free miles behind him, Dave has seen it all on the road to share his experiences.
Dave is also the co-founder of Smart Trucking, and he's helped thousands of truck drivers to jumpstart their careers, negotiate for better pay, improve their driving, and earn respect from other truck drivers.
Why does a trucker need polarized sunglasses? Because they're often exposed to sun glare, UV rays, and intense light while driving; this could cause eye fatigue and light sensitivity issues. However, polarized sunglasses are covered with a special film on the lens to filter UV rays, sun glare, and intense light that could compromise your vision.
If you want to surprise a truck driver with polarized sunglasses, we recommend the J+S Premium Military Style Classic Aviator Sunglasses. Apart from looking cool, their lenses are scratch-resistant with 100 percent protection against UV rays. The best part is you can choose different shades of colors on the lens.
Most truckers experience muscle soreness after a long-distance trip. In our experience, one of the best remedies to get rid of muscle soreness is using a deep tissue massage gun. If you're interested in this gift idea, we recommend the Vybe Percussion Massage Gun for truck drivers.
What we like about the Vybe Percussion Massage Gun is that it's designed with 8 interchangeable attachments for every muscle group in your body. In addition to that, it can vibrate up to 3200 rpm but it's surprisingly quiet. If you charge the battery, you can use it continuously for up to 3 hours.
Truth be told, a lot of road accidents happen because the driver was distracted on the cellphone. Since you don't want that to happen to your loved one, it would be a good idea to get a cellphone holder as a gift. This would make it easier for truck drivers to answer phone calls, read text messages, and record videos without getting their hands off the steering wheel. Nowadays, most smartphones have voice command so it's possible to control the phone without touching the screen.
If you're looking for the best option, we recommend the IPOW Upgraded Truck Phone Mount Holder. Thanks to its suction cup and extra sponge on the base, it's one of the most stable cellphone holders on the market. Another cool thing about it is that you can rotate it 360 degrees.
As much as a cellphone holder helps to prevent driver distraction, we think it should go hand to hand with a Bluetooth headset gift. This is because even if you talk hands-free while using a cellphone holder, there would still be background noise that would make it difficult to communicate. That's why we recommend you get a Bluetooth headset like the Plantronics – Voyager Legend that is designed to filter background noise while you're driving and improve sound clarity.
But that's not all; you can use it to listen to music or audiobooks while driving and if you charge the battery, you can use it for up to 7 hours non-stop. Not to forget, it's compatible with iPhone, Android, Mac, or any device with Bluetooth.
Sometimes when unfortunate incidents happen on the road, there are no reliable witnesses to give proof of what exactly transpired. However, if a trucker has installed a dash camera, it will record everything and back up the evidence. For that reason, we think the Garmin Dash Cam 55 is one of the best gifts you can give a truck driver this Christmas.
Quite impressive, the Garmin Dash Cam 55 is designed with an in-built GPS and a 3.7-megapixel camera that produces 1440-pixel video quality. But what really makes it special is that the dash will warn the truck driver if there is an upcoming hazard on the road to prevent an accident. Better yet, it will warn you if there is a speed camera up ahead.
To prevent distracted driving, the Garmin Dash Cam 55 is equipped with a voice control feature, so you don't need to take your hands off the wheel to record. In case of an accident, the dashcam will automatically back up the footage to the SD card.
Sure, the Garmin Dash Cam 55 comes with a 2-inch display but that's because it's designed to be inconspicuous so most people wouldn't notice it.
According to NHTSA, at least 40 percent of truck accidents are caused by driver fatigue. Of course, if a trucker doesn't get enough sleep on the job, he/she will become fatigued. Even if you get enough sleeping hours as a trucker, it's possible to wake up still feeling tired. This usually happens when truckers don't sleep well because they're sensitive to light.
The good news is, if a trucker uses a blackout sleep mask, he/she can sleep better during the day or night. We recommend this Manta sleep mask that is tailored to block 100 percent of light to improve your sleep.
Talking about sleep, the type of mattress that you use affects how deep you sleep. If you want to buy a quality mattress for a truck driver, we recommend the Better Habitat Memory Foam mattress. If you didn't know, memory foam mattresses are more comfortable than other types of mattresses. Besides that, a memory foam mattress doesn't squeak, and it will disperse your weight better than a spring mattress.
Anyway, the Better Habitat Memory Foam mattress is portable, and you can carry it just about anywhere. It also comes with a hypoallergenic cover to keep off allergens, dust mites, molds, and mildew.
How about a seat organizer gift for a trucker?
This will help a truck driver to store important items that shouldn't be left too exposed in the cabin. For instance, laptops, tablets, medication, and concealed weapons are some of the things that should be kept in a bag when driving in a truck. Besides that, nobody wants a cluttered cabin.
If that is your gift idea, we recommend the Tidify Seat Organizer. For starters, it has enough compartments to store a large laptop, water bottles, cell phone, wallet, lunch box, camera, and still have extra room to accommodate other items. Another cool thing about the Tidify Seat Organizer is that you can strap the bag on the passenger seat to prevent it from swaying.
Any professional trucker would appreciate a multi-tool to help fix or install things on the truck. If you're looking for options, consider this Gerber Truss Multitool with sheath. What we like about it is that it comes with all the necessary tools such as can opener, wire cutters, wire stripper, bottle opener, ruler, flathead driver, scissors, pliers, saw, edge blade, cross driver, awl, and file.
If that doesn't convince you yet, the handle is made out of steel to improve strength and durability. Did I mention, it also comes with spring-loaded pliers to reduce hand fatigue?
If you want a simple gift, you should consider trucker-themed t-shirts. We have different customized t-shirts with long sleeves and short sleeves available in all sizes that are perfect for truckers. On top of that, you could even get a customized tank top, cap, hat, or hoodie.
All of our trucking apparel are labeled with unique catchy phrases.
You don't want a trucker to be dehydrated while doing a trip, do you? This stainless steel Yeti Rambler Tumbler could just be what a trucker needs to stay hydrated on the road. We love it because it's a vacuum insulated cup that will keep your coffee hot throughout the day. What's more, if you pour in carbonated drinks with ice, it will stay cold even if outside is hot as hell.
If you want a bigger option, consider the 46-ounce Yeti Rambler Bottle.
We think an insulated yeti mug gift should be complemented with a cup holder. The problem with most cup holders built on the truck's dashboard is that they're not reliable and if you're not careful, your drinks could spill over. Not to mention, most cup holders are too small to accommodate large cups.
Here is a secret though; you could use a more convenient cup holder like the Ledge Auto Cup Holder. We like it because it's big enough to fit most Yeti mugs, hydro flasks, and large bottles. Another cool thing about it is that you can secure it on the truck's door, so you don't have to strain when reaching out for your drink.
Even though some appliances are designed to run on 12 or 24 volts of power that comes out of the cigarette lighter, most electronic devices such as laptops, microwaves, portable air conditioners, and coffee makers require a 110-volt AC outlet to operate. If that's the case, a truck driver will need a power inverter to do the magic and convert the direct current to alternating current.
We recommend the BESTEK 300W Power Inverter if you're looking for a good trucker gift in this category. As the name suggests, it can deliver 300 watts of continuous power and 700 watts of instantaneous power. In addition to that, it's designed with two 110V AC outlets and 2 USB charging ports.
But if you want a more powerful option, consider the BESTEK 2000W Power Inverter; it can deliver 2,000 watts of continuous power and 4600 watts of peak power. It's also designed with 3 110V AC power outlets that should be enough for high-consumption appliances.
If you know a truck driver who has been on the road long enough, he/she will probably have an interesting story about when something unexpected happened. In such situations, a lock box comes in handy to secure a trucker's valuables such as cash, emergency cell phone, handgun, or anything that could be easily stolen.
If you want a cool lock box for a trucker, consider the Smathou Secret Hidden Safe. It looks like a real book and most people wouldn't notice it's a safe. Even if somebody notices it's a safe box, he/she will need a 3 number combination password to open it.
Alternatively, you can choose the Snapsafe Keyed Lock Box. What we like about it is that you can choose 3 different sizes from large to extra-large. It's also made out of steel and it's big enough to hide a handgun.
It's easier for a trucker to make new friends at the truck stop with a chess board and a pack of cards. It could also help a trucker to avoid getting bored in between the hours before the next shift.
Anyway, consider these gifts: the Chess Armory Chess Set and LotFancy Playing Cards. The chess board is made from wood and you can fold it in half to save space for storage. What's more, the chess board is packed with an instruction booklet and replacement pieces.
On the other hand, the set of cards is made up of 12 decks; each deck is packed with 2 jokers and 52 suited cards. Of course, you can use the cards to play all sorts of popular games such as poker, texas, casino night, go fish, bridge, blackjack, and hearts.
Conclusion
If you're thinking about buying gifts for truckers, all the products we've mentioned in this guide will make their lives easier and more comfortable on the road.
Any professional truck driver will appreciate a good gift and your thoughtfulness.
Otherwise, if you're a truck driver reading this, who said you can't buy yourself a gift this holiday season or any time?
We appreciate all your hard work and dedication to keep the economy running.
Are you thinking of becoming a truck driver?
Here's a guide to the process of getting your CDL!